Guardians 2018-2019 team tryouts
The Dance Team is hosting tryouts for their 2018-2019 team. Tryouts will be held in the dance gym on Dec. 7 at 5 p.m.
There will be a workshop held from Dec. 4 through Dec. 6 to prepare the new prospects for what students should expect at tryouts. Tryouts are inclusive of returning members as well as new members who are hoping to join.
"The returning members are obligated to tryout again every year," junior Nachelly Benavidez. "Ms. Reeves wants to make sure we are all maintaining the skills we need to keep this team looking its best."
Any grade level can try out. A student's skill level and dance experience is not the only determinant on whether or not they make the team.
"We encourage everyone to tryout," sophomore Aaliyah Taylor said. "You really don't know what you're capable of. A lot of people come out not expecting to make it because they haven't been dancing that long, but in actuality, if you can pick up things fast, work hard, and if dance comes naturally to you, then you have a chance."
Dancers have to adhere to a dress code during the workshop and tryout day. They want to keep everything as professional as possible.
"During the workshop, dancers can wear dance attire, but black is preferred, as it is less distracting," junior Zane Lopez said. "If your hair is long, it has to be pulled back and put into a ponytail, and you can absolutely not wear jewelry. On the actual day of the tryout, we have to wear performance makeup as if it is the real deal."
Outside judges will come in and give students a score that will ultimately decide if they make the cut.
"We wanted to keep things non-biased," Lopez said. "This way, we know that Ms. Reeves isn't just picking favorites but dancers are based off of attitude, endurance and ability to learn."
It is encouraged that dancers be in shape and conditioned. A lot of the tryout process includes tests that put dancers ability to endure to the test.
"If you are not able to work through pain, then you have another thing coming," Lopez said. "There is a lot of endurance that is required. Being a high school dancer is something that some people aren't cut out for. I'm not saying it's impossible but it takes a lot to be a part of this team."
About the Writer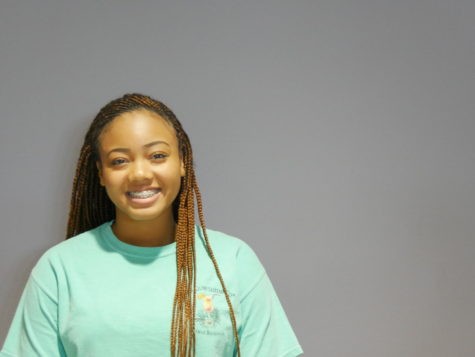 Briana Ramsey, Staff Reporter
Briana Ramsey is a passionate individual who is involved in many extracurricular activities. She is one of the founders for The Great Grizzlies and is...