Rising to Regionals: Glenn Debate Team Reaches New Heights
Grizzly Debate Team Details on Advancing to UIL Regionals
Glenn's debate team advanced to the Region 4 UIL competition on April 22 in San Antonio. Twelve students participated in the preceding district tournament on March 30 in Andice, Texas out of which three people advanced. 
Junior Likith Kancharlapalli placed third for Prose Interpretation, senior Zane Menefee placed third in Persuasive Speaking and senior Akhil Perla placed first as the district champion for the Lincoln-Douglas debate.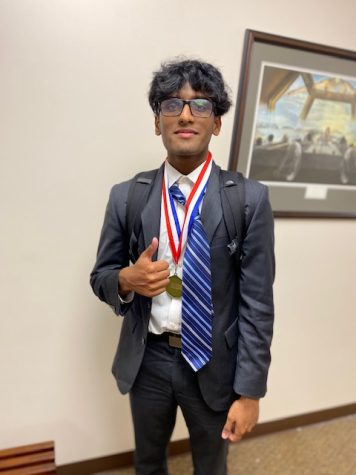 "Preparing for UIL was mostly during the after school club window, like with our actual team," debate coach Iris Castillo said. "The students who do have a desire to compete have excelled. They show up to practice, we're here until almost 5:30-6 some days. They understand that you have to do the research, you have to practice, and they just keep getting better and better."
Out of the three who placed in district, only one ended up being available to show up at regionals; Kancharlapalli for Prose Interpretation.
"I didn't really set out to do prose," Kancharlapalli said. "I was more of a debater and an extemp speaker, but I have done prose before this year. I have had a little bit of experience but as far as district goes, this was my first time this year. Because it was such a new experience for me, I took help from people who already did prose."
Even though he had experience in prose prior to this year, branching out of his comfort zone was still a struggle.
"One of my biggest struggles would be to differentiate between multiple characters and emotions," Kancharlapalli said. "In my first piece, there were different characters that I had to play, whether  that be a son or a father and I had to differentiate their voices and articulate them really well. The pieces I picked were extremely emotional, so trying to find the freedom to yell when my characters were mad, or have a sad feeling when they were about to cry was really hard for me because as a debater those feelings are never shown during a debate."
Although none of the team members advanced farther than regionals, that hasn't stopped Castillo from working hard to achieve her goal of statewide recognition.  
"My true hopes for our debate program at Tom Glenn HS is that within 18 months, statewide our debate program has recognition by name. I would like us to be that heavy in the competitive field, and that we're so solid that other schools hear 'Oh Glenn's going to that meet, we have to work hard.'"
The future of the debate team is heavily reliant on recruiting new members and growing the club, leaving people with skill sets that will serve them in all areas of life.
 "Our debate program is just building, we're just starting out, and I believe we have a great foundation," Kancharlapalli said. "Now, we're starting to branch out and find new members who are willing to go to tournaments, who are willing to express their voices, and to increase our debate program. I believe debate is one of the best clubs out there because it helps you in many aspects. It's not just a tick in the box for a college resume, it truly goes a long way."