A Fang-Tastic Night
Glenn Theatre Holds Annual "Haunted House: Too Many Spooks"
Glenn High School hosted their annual haunted house last weekend, utilizing the creativity of their theater department. All technical theater classes contributed with the construction of the haunted house, incorporating different iconic horror movies and student-led ideas, while conjoining an alluring, otherworldly blue and violet tunnel from "Coraline," the 2009 stop-motion film that reached the hearts and mesmerized the minds of children. The tunnel had served as an entrance, conveying itself into other film universes. 
"Instead of it all being separate entities, the way to connect it is with this theme of being in another world," JV productions director Nathan Tran said.
This transformation of the Glenn fine arts has been in development since early October. Students began pitching horror movie ideas and creating concept designs based on  "American Psycho," "Children of the Corn," "Jigsaw," "Texas Chainsaw Massacre" and "Stranger Things," presented along with characters from other horror movies to terrorize patrons down the hallway. 
"Our program's success comes from how much enjoyment the family and students get out of the experience, so I think being able to get my technical theater classes to get a lot of ownership in that becomes a really cool and immersive experience," head tech director Driscoll said. 
"The haunted house was very entertaining to me and my brother," sophomore Kyra Brown said. "I thought the ideas that were brought in together were cool, such as the makeup room with the mannequins, Patrick Bateman and our encounter with Freddy Krueger."
In partnership with Jeffery Schiller's criminal justice class, the theater crew had decided to create a zombie apocalypse fun run, an extension for the haunted house.
 "JJ Welborn, my Theater Tech I student, approached me first with this idea so that we would take it into consideration," Nathan Tran said. "Mr. Schiller had it all prepared, and it became an easy decision to agree on, given that we already had a lot of things on our plate."
While hallway chases and jumpscares are not always suitable for younger community members, the theater department had agreed with the theater booster parents to construct a separate area dedicated to children. The "Small Scares" portion consisted of light spooks, volunteers dressed as disney characters and non-gory Halloween costumes. 
"I chose to volunteer for the Small Scares section because last year, the younger audiences proved that they didn't feel as welcomed, based on their discomforted reactions," sophomore tech lead Ethan Nguyen said.
The Small Scares section was made up of bounce houses, a face paint area and a visit from Safe in Austin with animals.  
"This was an incredible opportunity for a lot of these kids that are at my sanctuary, who have a variety of trauma and special needs," Founder of Safe In Austin, Jaime Wallace said. "They get a chance to come and speak about the animals that help them heal outside of my gates, so it's something really cool to experience. Melody had asked me to bring some animals out and we were happy to do it."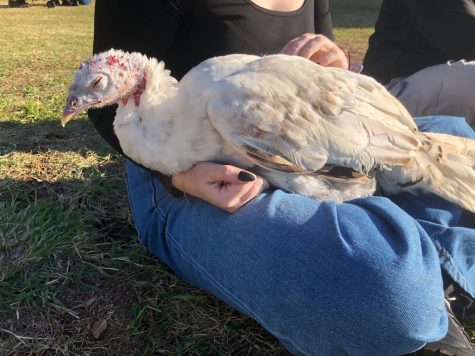 The theater department has been working diligently to ensure the success of their future productions. The haunted house is a way for the Glenn community to help raise money and awareness for the students. 
"We raised 25% more than last year. These contributions will go towards Chicago, which we are currently progressing on, and the JV productions as well," theater director Melody Morton said. "Our students and staff need to be recognized throughout the community, because of their tireless efforts in bringing all of this together, as well as being on top of every task."