Rumors behind the scenes
On Oct. 26 through 28, students performed a comedy entitled "Rumors" for the school's second annual fall show.
The play was set in the 90s and featured a group of friends who were going to a house party. After the guests of honor suddenly went missing, what started out as a simple celebration quickly turned into a sinister— yet hilarious— mystery dinner.
"I wanted to do a comedy since [the students] only did dramas last year," director Melody Morton said. "It was a comedy I really liked and was familiar with, and I wanted to challenge the actors. It also had an even number of boys and girls in it."
Students were required to audition for the show by memorizing and presenting Morton with a monologue. The actors practiced for weeks before the auditions took place during the first week of school.
"[The auditions] went surprisingly well," sophomore Gwen Williamson said, who played Chris Gorman. "I had been working on my audition for about a month, and I went to a theatre camp downtown a few weeks before school which helped the audition process flow a little easier."
Morton chose students for the show based on their audition. She looked for qualities such as how well the actors were able to carry out a comedic monologue and how prepared they were.
"The monologue I chose to audition with really represented the character pretty well I'd say," freshman Jordan Busby and understudy for Claire Ganz said. "I think that showed the director that I could play the character."
Since the second week of school, cast and crew members spent three days per week before school starting at 7:15 a.m. along with afternoon practice, which ended at 6:30 p.m. Some rehearsals even lasted until 11 p.m.
"We had been working very hard to memorize lines," Williamson said. "We even put in some time after rehearsal over Skype to practice lines to make sure we were prepared for next rehearsal so we could get to work and focus on acting."
While the show's talented cast took the stage, the crew helped keep things running smoothly from behind the curtain. A handful of students worked away with costumes, sound, lighting and the set itself.
"One thing I didn't think would happen was being given assistant stage managers," sophomore and head stage manager Kaylee Todd said. "I could be helping someone with a costume malfunction and they could  be on the headset waiting for the next sound or light cue. Before, I never had help from someone who knew what they were doing."
By the time the actual show rolled around, the cast and crew of "Rumors" were fully prepared to display what they had been putting their hard work into for weeks on end.
"I'd like to think that [the whole cast and crew] worked together well as a team, and honestly, our personality types really do go together," junior Josh Buie said, who played Ken Gorman. "It makes it a lot funnier than if you were to have a lot of random people."
Tickets were $5 for students, and $8 for adults. The funds went towards future shows, UIL competitions and outside of school trips.
"There was one point in the show when my pants ripped," sophomore Gabe Pace said, who played a police officer. "I had to staple them up backstage. When I went back out onstage, I bent over, and all the staples came out. That was a part of the show that no one noticed hopefully."
Despite a handful of minor hiccups backstage, the turnout for each of the showings proved that the hours of rehearsals before and after school was well worth it.
"The [bag of] pretzels literally fell all over the floor," junior Claudia Guerra said, who played another police officer. "It was great. My button broke two minutes before I was supposed to go onstage, so we found a clothespin and closed the top button. [The audience] saw the cop I was. That cop would not have her top button unbuttoned. Overall, we covered it up well."
The success of "Rumors" proves that even though the school's theatre program is still developing, the actors and crew members are definitely not holding back their skills onstage.
"It's a new theatre department, so we're working our way up," Guerra said. "I moved here from McNeil, so I'm new to this school in general. McNeil doesn't even have an auditorium."
A grand total of four showings were brought to the stage last weekend, with one matinée performance featuring the talents of the understudies.
"I loved the play," sophomore Nolan Cheevers said, who went to the first showing of "Rumors". "I loved how Gwen and Chelsea were able to get into their characters so well. Josh and Grant's chemistry played out and worked together so well. Gwen, Chelsea and Grace were my favorite of the girls. They did amazing."
After the last showing of "Rumors" on Saturday night, students of the production earned a total of over $4,000 dollars made from tickets, concessions and donations to put towards the future of the theatre department.
"I don't think I've ever just not been at rehearsal," Busby said. "[Being in the show has] definitely been very hard, but I've never wanted to quit. With my castmates, I feel like I'm part of a family."

About the Writer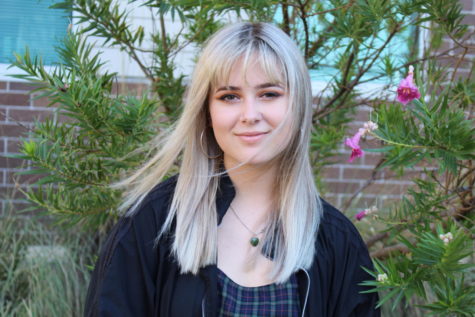 Mckenzie Hoskins, Editor
Mckenzie Hoskins is a senior at GHS that has been writing creatively ever since she learned how to read, and has won many awards for journalism writing...