Q&A: Principal Arturo Lomeli discusses clubs helping Rockport after hurricane
What are we doing to help?
We as a school haven't done anything since the sock drive. We raised, I think, 1500 socks in five days, which is awesome. But we kind of leave it to the booster clubs to do that. We also have two young ladies who are putting signs up. Just kind of less about how we can 'fund raise' or 'supply raise', but more of educating students about natural disasters. We started off really loud and enthusiastic, but I think part of it is that this is the first six week grading period, so students are really stressed about that.
We actually have a whole facility that has all sorts of supplies for Rockport. We have not delivered it to them yet, because they don't have any place to put it. So, when I talked with their principal we said that we would hold onto it and take it to them in November, or even January or February when they actually can store it.
What is different from what you expected?
I've been so impressed and excited about the number of groups and clubs that have already participated. Not many people know it, but the cheer leaders served food for their cheer leaders and everyone knows band did, but FFA sent supplies to their FFA, that's pretty cool. I hope other clubs maybe it's our basketball teams or our robotics team does the same some point over the course over the year. That's been the surprising part, that that's happened without me having to ask me to do it. People are just doing that and it's just awesome.
Why are we helping Rockport specifically?
I think it was just it made sense because we played them in a football game so it was like 'wow this is a cool opportunity' and I think there's so much attention given to Houston, I mean of course there should be, but Rockport is just a small town and they were hit with the eye of the Hurricane. It was just such a cool opportunity because we played them and we got to know their players through that game, we got to support their band and their cheerleaders. I think for us was Houston's getting so much support so how do we help the little guy.
Are we the only school helping out or are there others as well?
I'm sure there's a lot, I'm sure there's many others throughout the state.
What do you think is making the biggest impact on the situation?
In talking with the principal what it seems is that what they need is the financial help. That's the hardest for us to provide. Right now they said they don't need a whole lot of supplies right now because they are getting a lot of supplies. They need money but it's the hardest thing for us to provide because money is hard to come buy. I think another big challenge they have is rebuilding everything. They need to rebuild their infrastructure, their schools, businesses, stores, all those types of things I think is the hardest part.
Have you spoken to any of the students or teachers from rockport?
I saw some of the students and players at the game. I saw some of the parents come over and thank us for being great hosts and for the work that we are doing. We learned their fight song, our kids performed to their stands, they were just super appreciative of our efforts.
Do they think we are making an impact?
How do we define impact? That one school is doing everything or that twelve schools are doing a little bit? Each of them doing a little bit is making an impact. I think for us just making relationships with them and we are there to support. To me it's not just one football game its one year long. It may not be huge extravagant newsworthy event. It's like robotics doing something in February or Baseball doing something in April. Those sort of little things I think will make just as big of an impact.
Is there a group of students that do anything for Rockport or is it just the whole school?
Schools aren't able to take the lead on it so much because we are worried about teaching and learning and kind of what's day to day. So, our booster clubs have been taking the lead on it and have promoting it within the booster clubs and doing things at events and those types of things. The way students can get involved is through their clubs, they partner with the booster clubs. We've had a lot of clubs already like FFA and one of the science clubs have coordinated with the booster clubs to do those fundraising efforts.
What does this project mean to you?
I'm just proud of our students and our community and to me we have things, challenges happening here at home. There was a family here who lost their house to a fire last weekend. We have our own challenges here at home yet we are trying to take care of other people at the same time. It just makes me proud that we see beyond just Leander.
What will you never forget about this project?
The kids. Just the fact that all these things were being planned without me knowing it. Not that I need to know everything, but people took it upon themselves to do it. That made me very proud that people were taking the initiative to do the right thing.
Is there anything you would like to add?
I want Glenn to be a place where we serve our community the community is Glenn, the community leander, the community is the Austin area, the community Texas, the community is the United States. I want us to have a servant's heart where even if it's small even if it's a thousand socks, we do it not because of the notoriety but because we care.
Leave a Comment
About the Writer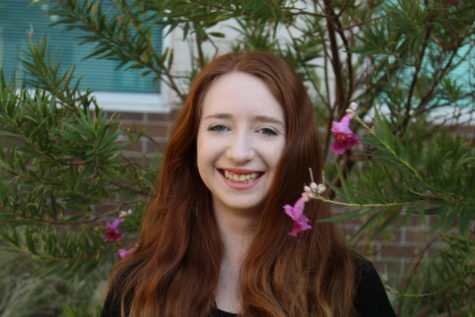 Layla Smith, Staff Reporter
Layla Smith, senior age 18. Layla has taken Tae kwon do, Han mu do, and Jiu jitsu in her early life. She has earned up to the rank of black belt first...