Q&A: Marissa Guzman new head softball coach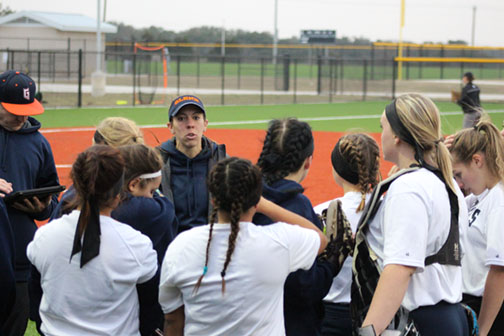 Meet new Marissa Guzman, she teaches Algebra 1/Algebra 2 Pre-AP.
Why did you come to Glenn?
"I taught at Bastrop High School before I was offered a head coaching job here for softball, and I have always wanted to be a part of LISD as they have a great reputation regarding academics and athletics."
Why did you decide to teach math?
"Math was my favorite subject and my teacher inspired me to be a better student each day, so in return I became a math teacher to inspire my students."
Which college did you graduate or go to?
"I went to St. Edward's University."
Where are you from?
"I grew up just outside of Houston, TX in Sugar Land."
Do you have any pets?
"My favorite animal are dogs and I own a border collie mix named Sadie."
What type of sports do you like/play, any hobbies?
"I like Softball and volleyball, but I enjoy watching college football as well. I absolutely love being outside and playing sports or working out."
Marissa (Thome) Guzman
Head Softball Coach
Algebra 1/2
"WIN THE DAY"