Start of tennis season, Westwood tournament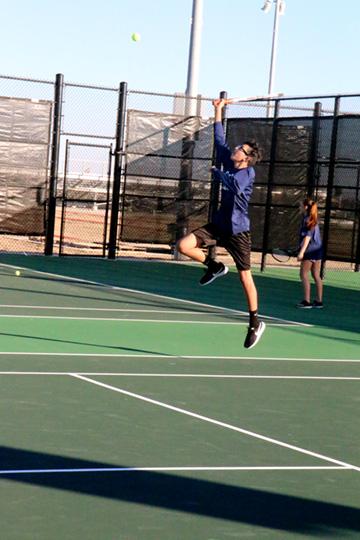 The tennis team started its singles Spring season, kicking it off with a tournament in Westwood on Feb. 9.
Tennis officially starts as early as Aug. 1 with doubles, but with tennis Coaches Marie Bruce and Jordan Ramey coaching different sports during the fall, tennis got a later start than other schools.
"The team season was hard because Coach Ramey and I both have fall sports," Bruce said. "To balance tournaments plus having a lot of our athletes in multiple sports was going to be hard for them to balance playing tennis and volleyball or tennis and basketball."
For Bruce coaching tennis was an automatic yes. With past experiences in tennis Bruce was very enthusiastic about teaching others how to play.
"My aunt was a professional tennis player and has played tennis her whole life, so tennis has always been in my family and I always really enjoyed the sport," Bruce said. "It's very much a lifelong sport, so I believe tennis is a sport that everyone should learn how to play at some point in their life."
Tennis isn't just about learning the rules and how to hit a ball with a racket.
"It teaches you a lot of social skills," Bruce said. "There Is a lot of times if you go on vacation that there is a tennis court available and by being able to just pick up a racket and to hit back and forth with someone, you learn teamwork and you learn patience."
Most of the players who joined the team followed Bruce from volleyball.
"I really like Coach Bruce and I enjoy playing tennis," sophomore and varsity volleyball play Ally Felty said.
Because most players came from volleyball relationships were already built between the team members.
"A lot of us are friends outside of tennis," freshman and varsity volleyball player Madison Hunstock said. "It is fun to learn how to play tennis with your friends and compete against them."
Players got the chance to choose what team they wanted to be on, Freshman or JV, through a questionnaire sent out by Bruce. Bruce then picked the best players from each team to play in tournaments.
"I think we are going to be really shocked by how we do," Bruce said. "We are going to compete at a Freshman and JV level this year to give everyone that kind of experience and matches under their belt, so I'm really hoping we have some success at that level."