Q&A: Principal Arturo Lomeli reflects on opening GHS, moving to Texas
Hang on for a minute...we're trying to find some more stories you might like.
Why did you move to Leander?
It was all about family. We were living in Oregon and we loved Oregon except our lives were a little bit crazy. I wanted to make our kids the priority. I got a call one day about a new high school in Leander and we have family close to us in San Antonio. We really love it… and our lives are a lot less crazy.
How did you feel on the first day of school?
I was nervous, I was excited, I was stressed because I wanted it to go so well for our students and our staff. I just wanted it to be a great day, and I think it was.
What are you most excited for this year?
Continuing to build excitement for everybody. In everything we do, from athletics to the arts, in the classroom, everything is going to be a first. And what I'm most excited about this year is to see all those firsts.
What's one thing you love about Glenn?
I love the people. I think we've done a good job of building a community in a short period of time.
What's one thing you're looking to improve?
I think it's very important that we continue to improve our academic achievement. That students gain the skills that they need to be ready for life after high school. Adults and teachers need to work extremely hard to meet your needs and challenge you and to help you reach those dreams.
What do you do in your spare time?
I spend a lot of time with my kids. We just bought a house so we are doing a lot of house projects. My son likes to play baseball so I go to a lot of his games and practices. And I go to a lot of Glenn events.
How do you feel the school is doing as a whole?
As a whole, big picture, I think we are doing really well. I think we are building a culture, we have a very clear vision of where we want to go over the next three years. I think everyone has really bought into that vision. GRIT+3 means something to people. We have a lot of work to do but overall I think we've gotten off to a great start.
How do you feel students are embodying the whole GRIT+3 attitude?
I think it really stuck. I think we have a lot of work to do to live up to it. When we talk about a global society, what does that really mean? It can't just be words, it has to be actions. Same thing with risk taking, integrity, and tenacity. So I think we've done a great job of people knowing what it is, but how do we live it?
What is your favorite place/location in Glenn?
I love hanging out in the grizzly union. It's nice because you're standing there and you have teachers coming to talk to you, you have students coming to talk to you, you don't feel like you're there being a hawk supervising people. Adults are in the space and you can't even tell who's students and adults… It's just one.
About the Writer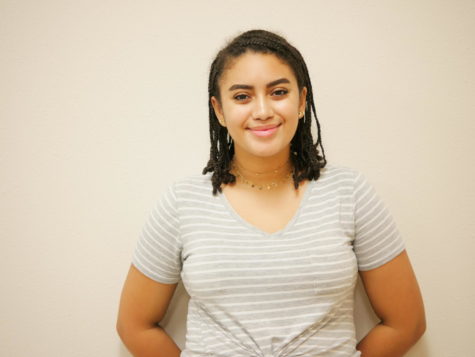 Heavenlee Walker, Editor
Seventeen year old Heavenlee Walker is a journalist at Glenn High School. Growing up around multiple loving family members and close friends, relationships...