Rishab Gutta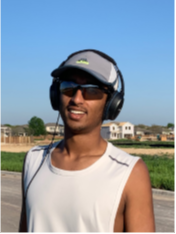 Determination, independence, and grit are all positive traits to have as a highschool student. Rishab Gutta displays all of those traits-and it shows! Last year being his first year at Glenn, he put everything in his classes to achieve all of his goals.
"It was a bit of a transition year for me after moving from New York to Texas. But all in all I would say it has been a really good experience for me." Gutta said.
Through his hard work, he displayed how humble, and confident he was. He faced his advanced classes head on- even earning a Grit +3 award in chemistry, and a straight-A award. 
"I really liked my classes last year, and I felt that I did a pretty good job in all of them."
He is always determined to learn new things in school, and faces challenging classes head on! Rishab Gutta also plays tennis outside of school, and is incredibly passionate about tennis, he always strives to become a better tennis player each and every day. In tennis he has achieved many of what he has planned.
"As for tennis, I felt that at the beginning of the year (2019 that is, the beginning of the school year), I actually won the first tournament I played in Texas. While I didn't win any titles after that, I was still able to get to the champ level in the USTA Texas."
Rishab Gutta has also had more achievements in Tennis.
"I made some pretty deep runs at the challenger level tournaments I played. I also was able to get into the quarterfinals of a championship major zone (cmz) tournament for the first time in March this year."
Rishab also explains what he is looking forward to this year.
"The aspect of this year that I'm looking forward to the most are the college level courses I'm taking this year. I took a course like that in New York in ninth grade, but never courses like these. So I'm looking forward to them a lot."