Jeremy Gibson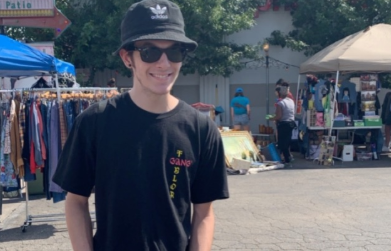 Senior Jeremy Gibson is a self-proclaimed thrifting expert. Constantly on the lookout for new clothes that are one-of-a-kind, Gibson prides himself in his sense of style and ability to make extra money while expanding his collection of vintage styles.
"I like to shop at thrift stores because you never know where the treasures could be hidden," Gibson said. "Some of my favorite thrift stores include Flamingo's, Plato's Closet and Goodwill.  I look for vintage pieces from designer brands such as Guess or Polo Ralph Lauren."
Gibson takes pictures of his clothes and posts them on various websites such as Depop and Ebay once he's gotten his use out of them. Sometimes he is able to make triple the amount of money he initially paid.
"Since I buy all threes clothes for cheap I am able to sell them for a good price and still make money," Gibson said. "After I sell the item, I take the money I made from that and use it to buy more clothing so I can always have new things to wear."