Track creates more than good athletes
The school's track team began with a strong kick off this season, securing their spot on the way to district.
In track, members of the team perform various skills such as jumping, running or throwing. Field events occur during or before running events and most of the competitors are cross entered in multiple races or field events.
"I am most excited to travel with my team to other schools and having the time of my life with them," junior Giselle Esquivel said.
Some track meets are up to 12 hours long, leaving lots of time for teammates to motivate each other and ensure that they are each doing their best.
"We have plenty time to bond with teammates, do homework and meet people from other schools we probably wouldn't get the chance to meet before," Esquivel said.
There are three types of runners in track: mid distance runners, long distance runners and short distance runners. Before running, shot put takes place.
"Since throwing is the first event, I don't miss watching any other event and I get to watch my friends run and cheer them on," sophomore Slade Jocis said. "I feel like I have a connection to my teammates. With how long some of the track meets are, you can really get to know someone."
Sophomore Kobi Surrell recently celebrated a victory at Burnet High School, and during practice ran one of his fastest times ever in the 400 event.
"Sometimes, (event placement) depends on who coach wants during that week," Surrell said. "He decides by who gives the best effort in practice and who basically earned it the most. To put forth your best effort, you give it all you got in practice in every rep and every time you hit the track. Always give it your 110%."
Track events are scored off of a point system. Since last year, scores have improved drastically with new members coming in.
"If [my teammates] aren't giving their best effort, I just tell them I'm going to take their spot on an event," Surrell said. "Then they hop right up and give it their all."
Cross country runners are always motivating each other, taking different leadership roles and contributing positivity to the team.
"I do not consider myself a leader," Surrell said. "I consider myself as not a follower but a do-it-your-own type of guy. I value my teammates so much. They push me to give my best effort every rep and they are the ones that make me better."
About the Writer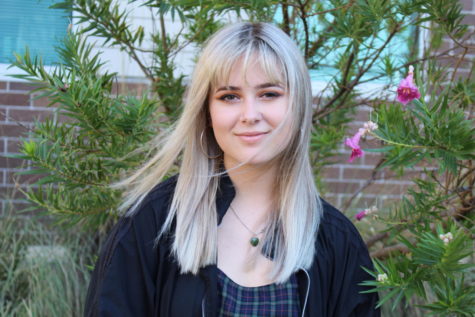 Mckenzie Hoskins, Editor
Mckenzie Hoskins is a senior at GHS that has been writing creatively ever since she learned how to read, and has won many awards for journalism writing...