Girls soccer makes playoffs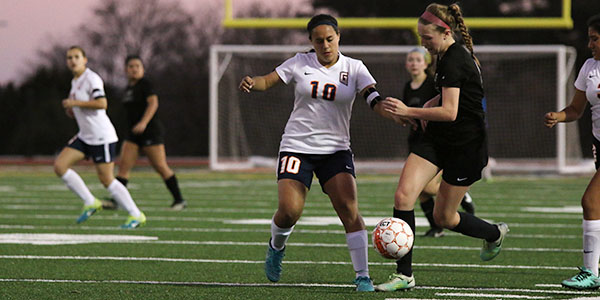 Girls Soccer qualified for playoffs starting March 29.
The team beat their record from last year of two district game wins to six wins this season.
"I was extremely, extremely excited," captain and junior Danielle Endel said. "It was something good to accomplish for it being our second year of soccer. We've come a long way."
The team has changed practice to work on the foundation skills of soccer.
"Were doing lots of conditioning and working on improving our skills," Endel said. "Basic things like passes and touches and controlling the ball. We ran two and a half miles yesterday, but not all at once."
They are also improving skills that don't require a ball.
"We are working on our communication more and working on our skills as a team," captain and sophomore Madeline Garza said. "So we can work better together so we can win this playoff game and continue."
Besides improving their skill, players are improving their mindset.
"I'm mentally preparing myself and working as hard as I can in practice," Endel said. "We've played the team that were playing on the 29 before so I'm thinking of all the ways I can improve from the past time and telling myself 'you got it, and you can do it.'"
As captain, there is more responsibility put on them for how the team performs.
"I feel like there's pressure to keep the team motivated and determined and to feel like we can accomplish what we know we can," Endel said.
Their hard work paid off and will be tested this Thursday against the Gateway College Preparatory School Gators.
"I felt like we worked as a team and that we deserved it," Garza said. "We did good during the season."