BTS makes American debut
BTS, known as Bangtan Boys, made history being the first Korean pop group to perform on American television. They made their way onto the American Music Awards on Nov. 19. They performed their number one song on iTunes and most recent release, "DNA".
The Korean-Pop music group has taken America by storm. The seven member band is from Southern Korea under the record label "Big Hit." 2017 was a year of remarkable accomplishments, showing up on TV, winning awards and completing an entire world tour.
"I think this was a great step," junior Yatzani Rodriguez said. "It opened doors aside from just western music, introducing a new genre to a new audience. It's also great that more people are now getting to know them personally with the shows they are on."
The boy group went beyond the award show and casted on "The Late Late Show with James Corden," "The Jimmy Kimmel Show," and "The Ellen Degeneres Show." This opened up the platform to more American viewers.
Not only did they appear on many talk shows, they also released a new remix of their original "MIC DROP," featuring Designer and remixed by Steve Aoki. This reached #1 replacing their DNA single on the charts. Aoki even played the remix at a club the night it hit number one.
"I feel like this is a success for not just them as hardworking and talented group of men, but it introduced Korean music to Americans who otherwise wouldn't know about it," junior Gracia Mancillas said. "It's exciting."
Each person within the band has their charms. Together, they achieved popularity outside of Asia, making them now a worldwide talented group of men. BTS hopes to further push their goals of American debuts to other countries and possibly creating music in other languages. BTS is now beyond just K-Pop.
"I thought it was a big leap for them, taking that international step and seeing how popular they are now in America," junior Luke Pace said. "But them coming down here and showing on American television was a better step in their careers."
About the Writer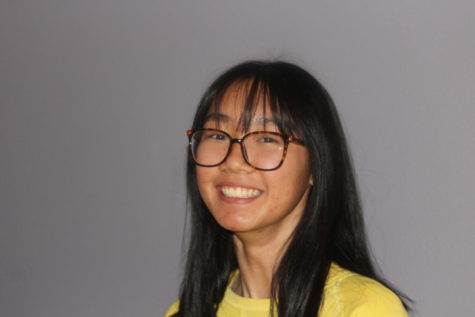 Lizzy Nguyen, Staff Reporter
Junior, Lizzy Nguyen is a first generation Asian American of two Vietnam War refugees. She lived in San Diego, California and also resided in McKinney,...