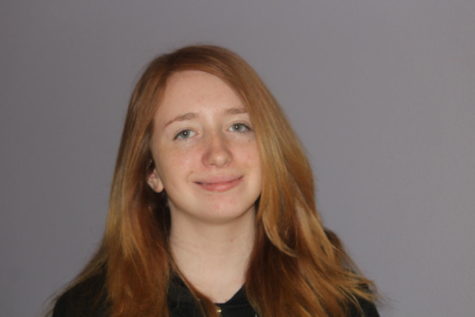 Layla Smith, sophomore age 1
6
. Layla has taken Tae kwon do, Han mu do, and Jiu jitsu in her early life.
She has earned up to the rank of black belt first degree level 3 in Tae Kwon Do.
She has taken an interest in writing a fantasy book called
The Siblings of Legend which she says is something she is the most proud of
. Her hobbies include playing guitar,
skateboarding, acting and archery. She is afraid of horses, heights, and ferris wheels. She also has Hemophobia which means if she sees blood she will pass out.
The future career/job she wants is to become a Veterinarian. Layla has really bad social anxiety so making friends is hard because of this when she does make them their friendship means a lot to her.
Layla Smith, Staff Reporter
May 23, 2018

National Turtle Day

(Story)

May 15, 2018

Koreas settle differences

(Story)

May 15, 2018

Literature Club, space for minds to roam

(Story)

Apr 26, 2018

GOT7 comes back strong

(Story)

Apr 18, 2018

Awolnation's new album continues unique flair

(Story)

Mar 28, 2018

"Full Metal Alchemist" surpasses expectiations

(Story)

Feb 16, 2018

Best love stories written

(Story)

Feb 14, 2018

Sing until you scream

(Story)

Feb 06, 2018

Asia's second Valentine's Day

(Story)

Dec 21, 2017

Annual Christmas parade, tree lighting

(Story)

Dec 10, 2017

Music Review: Gwen Stefani Christmas album

(Story)

Nov 15, 2017

Girls basketball start winning streak

(Story)

Nov 12, 2017

"Thor: Ragnarok" shows another side to Thor

(Story)

Nov 10, 2017

"Heaven Upside Down:" Manson stays true to himself

(Story)

Nov 06, 2017

MMA fighter walks the halls

(Story)

Oct 25, 2017

"Little Shop of Horrors" Musical Announced

(Story)

Oct 23, 2017

Insight on Grizzly clubs

(Story)

Oct 19, 2017

Q&A: Principal Arturo Lomeli discusses clubs helping Rockport after hurricane

(Story)

May 16, 2017

Thank you for being a friend

(Story)